Intruder Alarm Installations
WE INSTALL BOTH WIRED AND WIRELESS ALARM SYSTEMS
FOR DOMESTIC AND COMMERCIAL USE
More Affordable Components
Minimal Maintenance
No Need to Replace Batteries
Cost-Effective if no existing wiring
Flexible Installation
Individual Device Referencing
System devices
Intruder alarm panel
A requirement for all systems, the control panel along with its power source, is the brains of the system and links all components within the system, including the optional GSM module to establish communication. The panels can communicate with the complete suite of devices including PIRs, Sensors, Magnetic Contacts, Keypads, Panic Buttons, Key-fobs, Smoke Detectors, Internal and External Sirens and more, both for "Pre-Wired and "Wireless" devices.
Keypad (RKP)
A remote keypad provides a user facility to control/interact with the Burglar alarm system. It allows the user to set and unset the alarm, and review the log of events within the system. The keypad consists of audio arming and message functions along with text displays to indicate the status of the system.
External Bell Box – SABB (Self Activating Bell Box)
The intruder alarm system will consist of an External SABB to draw immediate neighbourhood attention to an intrusion taking place. When the alarm is triggered, the Siren will flash with a high intensity LED and emit a very loud electronic sound externally for 15 minutes
Internal Sounder
When the alarm is triggered, the Siren will emit a very loud electronic sound internally for 15 minutes.
Motion Detectors – PIR (Passive Infrared) Device
A PIR detects movement in a protected area. All objects emit IR energy to varying degrees. The PIR device is designed to effectively detect sudden changes in infra-red radiation with devices engineered to focus on human detection and remove false activations. The range is typically 12 to 15 meters.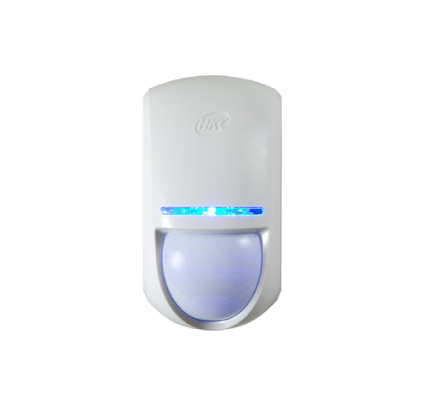 Shock (Inertia) Sensor c/w Contact
Used on windows and non-primary entry/exit route doors. Designed to activate before an intruder has gained access to the premises. The shock sensor will detect and analyse the vibrations or excessive impulses resembling those similar to those expected in an attempted intrusion. The sensor can cover a span of 4m2. Sensors come in either white or brown.
Magnetic Contact
Used on primary entry/exit door and Velux windows to reduce false activations through activity at the door or heavy precipitation or wind. When closed the magnetic contacts complete the circuit. Upon breaking the circuit by opening the door or window the alarm will activate. Contacts come either in white or brown.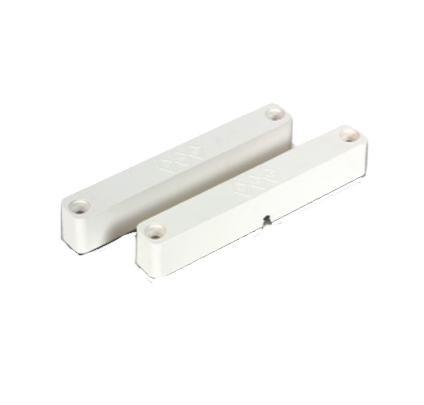 Potential extras
GSM-WiFi
RF Fob
Panic Button
Perimeter beams
PIR with Camera
Dummy Bellbox
Smoke Detector
Heat Detector
CO Detector
LED Security Floodlight
Considering an alarm system for your home?
There is no 'one size fits all' strategy when it comes to choosing a house alarm, as much depends on your own individual circumstances. If you are availing of discounted home insurance on the basis of your alarm, then this is an issue.
It's also worthwhile asking your local Crime Prevention Officer for advice. Garda Crime Prevention Officers are stationed around the country to offer guidance and reassurance to members of the community.
Commercial Alarm Systems
A site survey is required to determine the level of security required. Similar to domestic alarm systems, there is no 'one size fits all' strategy when it comes to choosing an alarm for your business premises.
Monitoring through an Alarm Receiving Centre
Monitored security systems are connected to a remote monitoring station in Dublin. Trained controllers are on hand to alert keyholders and to initiate a Garda response 24 hours a day, 365 days a year to alarm activations. We can monitor intruder alarms, panic alarms, fire alarm, medical alerts and open/close reports which is often used in commercial premises to notify the keyholders if the alarm system has not been turned on or off at a specific time. A monitored security system may reduce the cost of your insurance cover, ask your insurance company for details.
Self-Monitoring
A Self-Monitored security system allows homeowners or users to monitor their security system themselves without involving a professional monitoring service. Instead of relying on a central monitoring station, the user receives notifications directly on their smartphone or other devices when an alarm is triggered or an event occurs.
The user can also remotely access the alarm to check the status of the alarm and review a log of previous events, and also allow users to customise their own alert settings to suit.
Preventative maintenance
Preventative maintenance in Ireland involves regular inspections, testing, and servicing of intruder alarm systems to ensure their optimal functionality and reliability. It is essential to perform preventive maintenance to minimize the risk of false alarms, detect potential issues before they become significant problems, and ensure that the alarm system functions correctly in the event of an intrusion.
FAQ
How long is Lara in operation?
Lara is a well-established, wholly Irish owned company, in operation since 1986.
What areas do Lara cover?
Lara covers all the Dublin and the greater Dublin Area including Kildare, Meath and Wicklow. Lara covers other areas upon request but rates may be greater depending on distance. Call office on 01 465 9090 for further details.
Is Lara a fully licensed company?
Yes. Every Alarm and Electrical system is tested and approved to the 50131-1 most current standards In recognition of our professional operation, the company is certified by the Management Systems Certification (replaced the NSAI), PSA and RECI.
MSC 762 22 (Previously NSAI IAS-1046)
PSA 00646
RECI A0774
Why use a licensed company?
All licensed installers are experienced experts who, as a normal part of the licensing process, have been vetted by the Gardaí and are subject to annual inspections to ensure they adhere to the most current regulations.
Licensed installers have demonstrated their competence in achieving compliance with the applicable European standard setting out how the intruder alarm system is installed. Unlicensed installers are committing a criminal offence and the PSA has convicted several installers and companies. Where the services of an unlicensed installer are engaged both the unlicensed installer and the client are liable for criminal prosecution with penalties of fines and/or imprisonment. http://www.psa.gov.ie/en/PSA/Pages/offences
How long is my alarm guaranteed for?
All our alarms are guaranteed for the first year following installation – that includes parts and labour charges as a result of faulty equipment or workmanship. However, Lara will not take responsibility for damage due to a cabling fault not installed by Lara (i.e. Pre-wired alarm).
Do Lara engineers carry I.D. with them?
Yes, all Lara engineers will have valid I.D. on them at all times.
Do Lara have 24 hour emergency service?
Yes, for maintenance contract holders.
How can I pay for my alarm install or service?
A customer may pay for works done directly to the engineer upon completion of the works, or contact the office directly on 01 4659090 and pay by credit/debit card. A receipt and invoice will be supplied for payments.
Are quotations free? What if I feel I need a site survey?
Quotations are free. A site survey for a domestic alarm is often not required for standard houses. For one off houses that are complex in design or are seeking to incorporate access control (door entry systems) or CCTV, a survey may be required.
How long do I have to wait for an installation?
Lead times for service calls or installations vary depending on demand, from next-day service up to two weeks. On average an engineer will be with you with you within four working days.
How long does a new install take?
The length of time is dependent on the size of the system being installed. Typically to estimate the time needed to allow for an install, allow 15 minutes per window and doors, plus an additional two and a half hours. The majority of alarms are installed on the same day.
Will my alarm work in the event of a power failure?
Yes. There is a back-up reserve battery located in the alarm panel which will maintain the alarm for up to a minimum of 12 hours if maintained correctly.
What if I have forgotten my alarm code? Moved into new home but never received alarm code?
Unfortunately if you have forgotten your code an engineer will be required to attend to reset the code. This will incur a call-out fee. If the alarm is a Lara installation, unless an alternate alarm company has serviced the alarm previously, the alarm will contain a Lara engineer code which will allow the engineer to access the system easily. In the event that the system is not a Lara installation or the engineer code has been changed by another company, it will require the engineer to default the system. However, If an alarm panel is engineered locked a Lara engineer will not be able to default the system successfully. In this instance the only way forward is to obtain the engineers code from the company that serviced the alarm last or to install a new control panel as a worst case scenario.
Can I get CCTV with my alarm?
Yes. Domestic CCTV packages are available to go with the burglar alarm. Typically 4, 8 and 16 camera systems with remote access/viewing via app on your smart phone are available.
Do you install perimeter security, beams for example?
Yes. Perimeter beams are a good way in which to alert to potential intrusions prior to encroachment on the house. We specialise in the installation of this type of system.
How does the phone app work?
To avail of the phone app you must have the GSM-WiFi module installed to communicate with the app. The HKC Phone-App is available to download for free from all app stores, and will allow end users to remotely control their security system. The App offers easy set and unset commands, push notifications (with audible annunciation), fully functional keypad, log interrogation and, depending on your installation potential output switching. Note that HKC has a monthly service charge on the facility of €5.80 per month, or €69.64 annually paid directly to HKC by direct debit.
Will pets set of my alarm?
Pets can cause false activations. The motion detection PIR is pet immune up to 35kg. Also, windows and doors are fitted with inertia sensors that will activate the alarm upon vibrations and impulses from contact. However there is flexibility in the system whereby the inertia sensors have been engineered to activate under specific criteria, thus minimizing the amount of activations to pet activity. If the system is wireless the PIR is not pet immune.
How do I change my details or keyholders?
You may change your details or keyholders by contacting your monitoring company with your account number to hand. They will advise you from there how to proceed.
Is it worth getting a dummy intruder alarm box?
Having a dummy bellbox may assist in raising awareness that an intruder alarm exists if entering from the rear of the house. However some intruders may tell the difference between a working alarm system and an empty shell sitting on the outside of a house.
Can I set the alarm at night?
Yes, and we always advise you do. We can program the system to include only those areas of the premises that you want protected and exclude others for the 'night' setting. In most instances, we would include the night setting to protect all perimeter access points such as windows and doors, and exclude the motion detection so you can move freely throughout the house.
How can I silence my alarm?
Silencing your alarm can only be achieved by entering a valid user code. There are several reasons that could prevent a valid code from being accepted. The most common one is that the system has been confused by a wrong entry initially, if this is the case it is a good idea to clear the keypad in accordance with the manufacturer's recommendation and start again calmly. Another reason is that the keypad has locked out. This is common occurrence as most keypads will lock out for security reasons after detecting incorrect code presses. The amount of time the keypad locks out and when it will lock out is depending on the manufacture and type panel. Another reason is corrupt system software, which may be caused by power cuts etc. However in most circumstance we find that unfortunately it is user error.
Can I change my user code?
Yes, but only if manager menu is activated on your burglar alarm.
Type in your alarm code which you use to unset you alarm which will bring up "Full Arm?". If it is a brand new alarm, and unless informed differently, our engineer will have used the code 1111.
Note: If your system arms immediately, manager menu is not activated on your system and will require an engineer to call out to reset the system.
Hit the # key until "manager menu" appears (8 times) (the # key is your "next" button)
Then press "yes"
Then press # until it comes to "User Code"
Press "yes" x 2
Prompt for new code appears
Enter new code (press "yes")
Verify new code (press "yes")
Press "Quit" until the date and time are shown (which is the resting state for your alarm)
Can I get a reduction on my home insurance if I have an alarm?
Yes; many insurance companies will give you a reduction of between 10%-15% on your annual premium if a professional alarm system, certified to EN 50131-1, is installed.
What is the difference between Wired and Wireless alarms?
Wired alarm system has cables connecting all the detection devices back to your control panel. This involves cables run around your house from each point. Most new houses have alarm cables pre-installed during construction.
Wireless detectors contain batteries and transmitters inside the sensors and enable them to send signals by radio-wave back to your control panel. This eliminates the need for cables and makes for a tidier installations if the house has not been pre-wired for. Batteries last about 4 years and are monitored by the control panel