ABOUT US
WHO WE ARE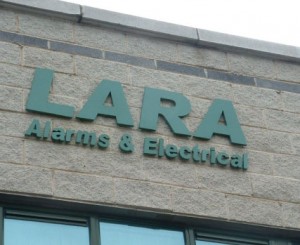 Lara Electrical Ltd was founded in 1986 by Brian Higgins, the managing director, and is a wholly owned Irish company based in Co. Dublin.
Lara is the go to company for all your electrical requirements. Lara specialises in all areas of electrical installations, from domestic to large commercial installations.
Our reputation as a leading provider of Electrical Installations and Domestic and Commercial security and monitoring systems throughout the country is built on attention to detail, close collaboration with our client's requirements coupled with the technical skills, quality and flexibility of our experienced committed work force.
We pride ourselves in quality and craftsmanship. Our committed teams continuously strive to improve the services which are on offer. Our objective is to provide our customers with flexible solutions to their requirements at very competitive prices.
Our standards of accreditation and best business practice are audited and enforced by independent accreditation agencies such as the N.S.A.I and R.E.C.I., and is the foundation on which we have built, delivered and continue to develop a comprehensive electrical and security service.
.
"Was moving into a brand new house and had previous dealings with Lara. The system in my former house was installed 8 years previous and I never had any issues so got in touch for the new installation. The engineer was very friendly, neat and tidy. Would certainly recommend Lara after my dealings with them"
Mark DeBúrca
"After a house burglary I looked into getting a burglar alarm ASAP. Contacted Lara who were out the next day. Was advised of all options and went with the new phone app monitoring. Engineer gave great demonstration. Would really recommend for anyone looking into a new alarm."
Elizabeth O'Brien
"Found Lara to be honest and fair. Helped me immensely by suggesting to incorporate my renovations through the Home Renovation Incentive. Wasn't sure what I needed initially but Lara gave great insight into the options open to me. I would certainly use Lara again"
John Collins
CAREERS WITH LARA
Lara is committed to creating an environment in which all employees feel valued, safe and equal. This is achieved through generous pay allowances, best practice in health and safety at work, staff training and a sense of trust and self-worth. Lara is an equal opportunities employer and all employee actions, decisions and programs will be consistent with the principles of equal opportunity employment.
Lara is continuously trying to expand, develop and diversify its workforce, thus continuously looking for potential new employees to advance the company in a competitive market.
Potential Areas of Employment
Domestic & Commercial Electrical Installations – Qualified Electrician or individual seeking apprenticeship
Security Systems – Intruder Alarms, CCTV, Access Control
Maintenance Division – Emergency Lighting and Fire Alarms
Applications
A candidate may submit a current CV;
Via email to: electrical@lara.ie
By post to: Lara Alarms, Unit D4 Centrepoint Business Park, Oak Drive, Dublin 12.
All CV's will be reviewed and notification of a decision will be given via email.
Once an applicant has been successful, a period of induction and evaluation will occur. Continuous specialist training will be provided to all applicants as personnel development is seen as a way to improve the operations of the company.