Solar Panels Installations
What are the steps to getting a Solar PV system installed.
STEP 1: Make contact with a Lara representative to express your interest in potentially installing a Solar PV system on your premises. A Lara representative will have a brief discussion to make an initial determination remotely of the potential viability for you initially from your address via mapping software.
STEP 2: Assuming there are no major obstacles to an installation visible remotely, Lara will complete a site survey to further determine the viability of a potential solar PV installation on your property. This assessment will include:
An assessment of your roof structure or ground mount areas for the potential siting of a PV array. This includes proximity to gutter lines, ridge lines, valleys and roof windows.
Evaluate any structural or wind loading implications for an installation.
Review potential shading from nearby structures, topography, Trees & Vegetation, chimneys, or other obstacles.
Determine the optimum siting of the PV panels and orientation, determining what roof surface would be best suited and whether panels would be in portrait or landscape configurations.
Assess the angle of azimuth and cardinal directions for optimum sunlight.
Identification of onsite SEU's (significant energy users) such as immersions, car chargers, electric heating.
Determine the specific customer requirements (e.g., battery storage / diversion control)
STEP 3: Following the site survey, a desktop study will be conducted to calculate the potential annual energy yield of your property for a solar PV installation. The study will include:
A review of historical irradiance tables using data from Google maps and the Global Solar Atlas to determine potential maximum energy yield at the site
Examination of the customers historical electrical energy usage (1 year). Lara will require some details from your current energy supplier.
A calculation to determine the optimum sizing of the PV system, including battery storage (if applicable).
Details of any recommendations on tariff switching that may be appropriate (e.g., Day / Night rates)
A quotation for the complete supply and installation of the entire system, including commissioning and available grant aid from the SEAI.
A potential payback calculation using NPR (Nett present value) discount techniques for the project.
STEP 4: On acceptance of the proposal, Lara will complete the installation as follows:
Assistance with preparation of the NC6 (Notification of micro generator connection) form to be issued to ESBN (Should be issued up to 6 weeks in advance of the installation)
Assistance with preparation of grant aid application to SEAI.
Preparation of a site-specific health and safety file including Risk assessment and method statement.
Installation of temporary works such as scaffolding and access equipment.
Installation of the roof and ground mounted hardware.
Installation of the PV panel array(s) and associated cabling.
Installation of the Inverter and Battery cabinets (if required) in the agreed location
Installation of the Current transformers (CT's), kWH meter and A/C side cabling to customers distribution board and meter cabinet
Full commissioning of the installation
User demonstration
Note: On completion of the project the customer must procure a BER assessment of the property and notify the SEAI of the result in order to draw down the grand aid.
Upon completion, Lara also offer a follow-up maintenance service that includes annual cleaning of the array to ensure maximum generation on a year-round basis and will review the consumption history to ensure the system is operating to its maximum capacity and the customer is gaining the maximum commercial gains.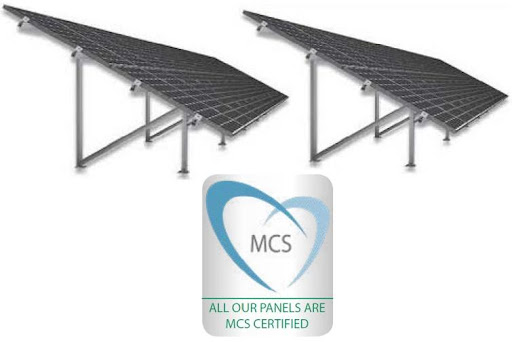 FAQ
What are Solar Panels, Solar Thermal and Solar PV?
The term 'solar panel' is often used interchangeably to describe the panels that generate electricity and those that generate hot water.
Solar panels that produce hot water are known as solar thermal collectors or solar hot water collectors.
Solar panels that produce electricity are known as solar photovoltaic (PV) modules. These panels generate DC electricity when exposed to light.
Lara Electrical focuses on solar photovoltaic (PV) modules, those technologies that generate electricity from light.
How does Solar PV work?
Certain semiconductor materials generate electricity when exposed to visible light. These are called Photovoltaic (PV) materials.
Solar PV technologies use a wide variety of semiconductor materials. The most common to date are those using silicon as the photovoltaic material. However, technologies based on other semiconductor materials are growing their market share.
What Electricity Production expectations should I have from Solar PV?
A conventional Solar PV panel will help meet a significant proportion of the electricity demands of your building. With costs per kWh continuously trending upwards the ability to produce your own Electricity will only lead to further savings.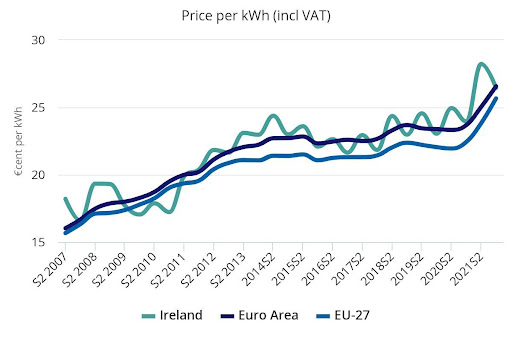 Average electricity price to households (Source SEAI based on Eurostat data)
Typically 1m2 of silicon solar panels will generate approximately 150W of power on a clear sunny day.
SEAI Ireland state that a Typical Irish Solar PV system sized at 20m2 and well located would generate around 2,600kWh of electricity a year. That is over 40% of the average annual electricity demand of an Irish home, approximately a saving of € 1,180.40 per annum (estimate based on 2,600kWh at €0.40 per kWh, plus VAT at 13.5%)
The amount of electricity a solar panel will generate depends on a range of factors. These include:
The hardware chosen
The size of the system
The geographical location
The direction in which the panels are installed
Note that Solar PV systems will still function on overcast days in Ireland although not at their maximum rated capacity.
How can I review what I am being offered for a Solar PV System Installation?
There are some important things to consider before investing in a solar PV system for your home, or business.
Finding a competent installer is important. Connection of the solar system must be carried out by a Registered Electrical Contractor. The Renewable Installers Register identifies installers who have received accredited training.
Choose the right equipment
Speak to your installer about the products they offer. Solar PV systems will usually include:
Solar modules
An inverter, which converts electricity from direct current (DC) to alternating current (AC)
A mounting system for the roof or ground
Additional options include installing battery systems or 'diverter switches' for storing excess energy
Check the Triple E Register for solar PV products that meet a minimum performance criteria, including energy efficiency.
Is there SEAI grants for Solar PV Systems?
A Grant of up to €2,400 available for PV Solar Panel installations through the SEAI (Sustainable Energy Authority Ireland)
New solar panel grants have been announced by the SEAI for installing Photovoltaic solar panel systems on houses built prior to 2021.
€900 per Kw for up to 2 Kw and €300 per KW from 2 to 4 KW to a maximum of 4 KW
A maximum of €2,400 of grant support
A post BER is required in order to avail of the grant. The BER result is irrelevant, but a requirement in any case.
Get solar panels installation quote
Contact info