Intruder alarm monitoring
Only you are notified
Phone app
GSM-WIFI (SecureComm)
Gardaí can be notified
Enhanced alarm protocols
May lower insurance rate
We provide both self-monitoring via your phone and alarm receiving centre (ARC) monitored systems. If my alarm is activated, do you want to be the only one notified (self-monitoring) or do I want the Gardaí to be notified as well (via ARC)? As with all aspects of your intruder alarm, the decision on what kind of monitoring to choose is determined by what each customer feels is adequate protection after a risk assessment of their own position.
When choosing, consider:
Quantity of valuables in the development
Vulnerability of the resident
Self-Monitoring – GSM-WiFi
(SecureComm) & Phone App
SecureComm is HKC's cloud based solution for both installers and end users. It was developed to counteract problems caused by GSM blockers. The solution includes a "heartbeat" using GPRS/IP to notify in the event of a loss of communication. Connection to the SecureComm server can be achieved using a variety of communication modules:
GSM/GPRS
Wifi Card
LAN Card
Using the SecureComm server and SmartLink700, installers will be able to perform Up/Download over IP/GPRS and in addition will be able to carry out remote maintenance and adjustments to detection devices and control equipment. Communication is dependent on the GPRS network provider (i.e. 3G signal in area) or the router installed. The HKC App will allow end users, using their smart phone, full control of their security system including issuing commands and receiving push notifications and alarm messages (text & audio) from the system.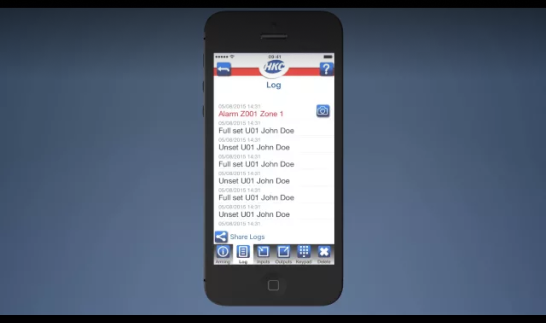 The GSM/GPRS unit is supplied with a pre-fitted World SIM that will only work with that device. The World Sim will utilize the best network connection in the area to ensure best connectivity
By downloading the HKC App the user can issue set & unset commands, receive push notification (with audible annunciation), have access to a fully functional virtual keypad and log interrogation. The free HKC App is available for Apple, Android and Windows devices.
Alarm Receiving Center (ARC)
Alarm signals are sent to an approved ARC who in turn contacts the nominated keyholders and/or Gardaí as required. Garda response requires that the Alarm System has some form of verification. In all cases alarm verification is carried out by the alarm system automatically when a second separate detector activates.
All our Alarm Systems can be connected to an Alarm Receiving Centre's which can receive all types of alarm signals, the most common being Intruder Alarm, Panic Alarm and Fire Alarm signals. Once you arm your alarm system it will transmit signals upon activation.
However, Panic buttons and interlinked smoke detectors work even when unset. When activation is detected your alarm system will send a signal to the ARC. Using enhanced alarm protocols, modern systems can notify an ARC of exactly what area (i.e. zone description) of your home or business premises has activated.
We work with G4S and other providers for our monitoring systems.
Once the monitoring centre has received alarm signals, you and/or your key holder or security company will be instantly notified in addition to the appropriate emergency services if necessary.
A monitored security system* may reduce the cost of your insurance cover, ask your insurance company for details.
*This service carries an annual charge, payable directly to the Alarm Receiving Centre.
Servicing charges (callout fee)
Areas we cover
We cover all areas of Dublin and the Greater Dublin
Area, including Meath, Kildare and Wicklow.*
*Additional costs may be incurred for call outs to areas outside this region.
FAQ
How long is Lara in operation?
Lara is a well-established, wholly Irish owned company, in operation since 1986.
What areas do Lara cover?
Lara covers all the Dublin and the greater Dublin Area including Kildare, Meath and Wicklow. Lara covers other areas upon request but rates may be greater depending on distance. Call office on 01 465 9090 for further details.
Is Lara a fully licensed company?
Yes. Every Alarm and Electrical system is tested and approved to the EN – 50131-1. In recognition of our professional operation, the company is certified by the NSAI, PSA and RECI.
NSAI IAS-1046
PSA 00646
RECI A0774
Why use a licensed company?
All licensed installers are experienced experts who, as a normal part of the licensing process, have been vetted by the Gardaí and are subject to ongoing regulation by the PSA. Licensed installers have demonstrated their competence in achieving compliance with the applicable European standard setting out how the intruder alarm system is installed Unlicensed installers are committing a criminal offence and the PSA has convicted several installers and companies. Where the services of an unlicensed installer are engaged both the unlicensed installer and the client are liable for criminal prosecution with penalties of fines and/or imprisonment. http://www.psa.gov.ie/en/PSA/Pages/offences
Do Lara have 24 hour emergency service?
Yes, for maintenance contract holders.
What if I have a non-Lara alarm? Can Lara take it over or service alarm?
Yes. If an alarm panel is not engineered locked a Lara engineer will be able to default the system and reprogramme it. However, if an alarm panel is engineer locked a new panel will be required if an engineer code cannot be obtained.It cannot be determined whether your alarm system is engineer locked until our engineer attempts to re-programme the system on site.
Will my alarm work in the event of a power failure?
Yes. There is a back-up reserve battery located in the alarm panel which will maintain the alarm for up to a minimum of 12 hours if maintained correctly.
Why has my text service stopped working with my alarm? Can this be fixed?
Eircom have decided to remove the functionality that supports "Fixed SMS" (i.e. the ability to send and receive SMS via fixed land line phone). In order to get around the Eircom service that is now suspended, there are two options open to you in order to keep your self-monitoring.
HKC has established a server through their subsidiary company SRC Ltd, which will provide the service that Eircom previously provided. In order to avail of this service an engineer will be required to call out to re-programme the communications aspect of your burglar alarm to report your alarm events to a different 'service number' from that of Eircom. A call out fee would be incurred for the engineer to work on the system. There is a further service charge from SRC Ltd, to be paid monthly by direct debit for a 24 month contract of €3.40 (incl. VAT) a month.

Alternatively, a GSM-SC module may be installed into your alarm panel. This is only available for HKC 1070 panels (HKC installs after 2009). A call out fee and cost of GSM-SC would be incurred for the engineer to install on your alarm system, of €270 (Incl. VAT). There is a further service charge from SRC Ltd, to be paid monthly by direct debit for a 24 month contract of €4.99 (incl. VAT) a month. This would allow access to text alerts and use of the new HKC phone app with multiple user friendly functions.
How does the phone app work?
To avail of the phone app you must have the GSM-SC to communicate with the app. The HKC Phone-App is available to download for free. The HKC App, will allow end users to remotely control their security system. The App offers easy set & unset commands, push notification (with audible annunciation), fully functional keypad, log interrogation and, depending on your system control panel, output switching.
Can I set the alarm at night?
Yes, and we always advise you do. We can program the system to include only those areas of the premises that you want protected and exclude others for the 'night' setting. It is more disturbing to be burgled when you are asleep that when you are out of the house.
Will pets set of my alarm?
Pets can cause false activations. The motion detection PIR is pet immune up to 35kg. Also, windows and doors are fitted with inertia sensors that will activate the alarm upon vibrations and impulses from contact. However there is flexibility in the system whereby the inertia sensors have been engineered to activate under specific criteria, thus minimizing the amount of activations to pet activity. If the system is wireless the PIR is not pet immune.
If I am connected to an Alarm Receiving Centre (ARC), what happens if I set of my alarm?
Step 1: An alarm system activates and a signal is sent to the central monitoring station. Step 2: The monitoring station receives a signal and the customers details automatically flash on the screen within seconds. Step 3: The method of signalling automatically tells the controller the nature of the alarm, i.e. burglary, fire, personal attack etc. Step 4: To eliminate false alarms the controller may telephone your premises i.e not on a panic alarm signal. Should an incorrect passcode be given or no reply received, it will be treated as an emergency. Step 5: A controller immediately acts on your behalf notifying the Gardaí, keyholders and other relevant emergency services. Step 6: All information in respect of the activation and subsequent actions taken are recorded on a real time basis. This information can be recalled at any time.
How do I change my details or keyholders?
You may change your details or keyholders by contacting you monitoring company with your account number to hand. They will advise you from there how to proceed.
Request a callout
Contact info
| | |
| --- | --- |
| Address: | Lara Alarms Unit D4, Centrepoint Business Park, Oak Drive, Dublin 12, Ireland |
| Phone: | +353 1 465 9090 |
| Email: | info@lara.ie |